The Modey Lemon: How Sweet Life Is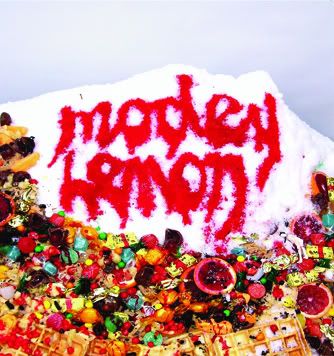 Besides having a copy of
Max Roach
's
Freedom Now Suite
SIGNED BY OLATUNJI sent to my home on a Saturday afternoon (thank you, Geoffery Weiss), nothing is finer than when a brandly new completed record shows up at the Birdman Offices from one of our bands. Wrapped up and ready for manufacture. Case in point: this week we received the new one from our Pittsburgh friends,
The Modey Lemon
. The name of the record (now it shall be revealed):
SEASON OF SWEETS
coming longgggggg off of the heals of 2006's
Curious City
. For the lucky few who have seen them live over the last year, the new material is crushing: adding Krautrock into the mix of the grazy (great and crazy) fuzzy furry freak sounds already addressed (we all know the genius beats of Quattrone).
I was lucky enough to debut the song "MILK MOUSTACHE" yesterday on the fabulous
PIRATE CAT RADIO
. Great station. It all went down during Mister Odom's Bottomless Pit and you can hear it right
here
(my part of the show starts half way in). Listen for debuts from Apache and R L Boyce too.
Labels: Apache, Birdman, Birdman Records, Curious City, Mister Odom's Bottomless Pit, Modey Lemon, Pirate Cat Radio, R L Boyce, Season Of Sweets
Share this post: Del.icio.us | Digg | Google | Facebook | Email
0 Comments